Chinese lantern causes Flintshire conservatory fire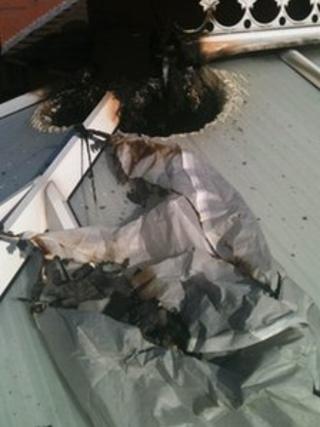 A homeowner had a lucky escape after a Chinese lantern caused a fire in Flintshire.
North Wales Fire and Rescue say the incident at Hilltop Close, Ewloe, highlights one "hazard" in using lanterns.
It burned through plastic on a conservatory roof, leaving debris on the floor and the room smoke-logged.
The incident on Saturday at 09:18 BST could have been much more serious, said Paul Whybro, community safety manager.
"It was pure luck that the hot wax fell onto the floor and did not set any furniture alight," he said.
"The lantern burned through her conservatory whilst she was asleep at night and had been smouldering for some hours."
Last month Conwy Council agreed in principle to ban the release of balloons and Chinese lanterns at events on its land, saying they pose a danger to wildlife.
The Welsh government is also looking at their effect, and the Marine Conservation Society and Keep Wales Tidy is calling for a ban.