Royal Oak Penrhyndeudraeth: Publican 'produced gun' after Welsh row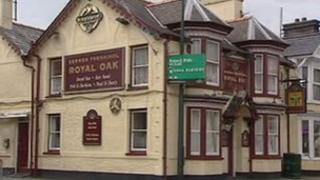 An English publican produced an air rifle after a row with customers who ordered drinks in Welsh at his Gwynedd pub, a court has heard.
Drinkers were asked to leave the Royal Oak in Penrhyndeudraeth in June last year, but banged on the doors and windows outside, the court was told.
Gareth Sale, 26, of Dunston, Gateshead, left the bar and reappeared carrying a gun, Caernarfon Crown Court heard.
He denies possessing a firearm with intent to cause fear of violence.
The court was told that Mr Sale and his partner had taken over as licensees of the pub.
On the day of the incident there was a "heated conversation" about the use of Welsh at the bar, as the publican's partner could not understand the language, the court heard.
After hearing banging from outside the pub, Mr Sale appeared with a gun, said Sion ap Mihangel, prosecuting.
The court heard Mr Sale inserted a gas canister in it and remarked: "I just want to scare them."
Mr ap Mihangel said: "The defendant denies the charge. His case is as they were new to the area and didn't speak Welsh they asked their customers to order their drinks in English.
"Some of their drinkers had taken offence and became aggressive."
A crowd gathered outside and Mr Sale feared for his safety, the court was told.
'Safety'
Mr Sale disputed that the weapon came out of its case, that it would have been seen out of it, or that he said he intended to frighten anyone.
Mr ap Mihangel said: "There is no issue that night there had been a disagreement at the bar regarding the use of the Welsh language. That is what triggered this incident."
Alys Owen, who had been in the pub, told the jury via a video link from Glasgow: "Someone tried to order a drink in Welsh and the landlady was telling them not to speak Welsh at the bar. She was quite aggressive and quite loud.
"Locals were getting quite angry and starting to shout. It was escalating."
Miss Owen said she saw Mr Sale behind the bar with a rifle under his arm. He started to put what looked like a silver bullet in it and she "freaked out".
Cross-examined by Andrew Green, defending, Miss Owen said the amount she had drunk that night had not led to her memory becoming confused.
Police were called to the pub on the night of the incident and seized two firearms, the jury heard.
Mr Sale told police he had feared for his safety and accepted his actions were "foolish", the court heard.
The pub is now under new management.
The trial continues.