Sean Tierney admits attempted murder of neighbours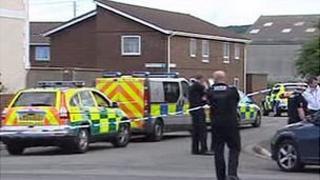 A Conwy couple are "lucky to be alive" after a neighbour attacked them with a knife and attempted to murder them following a dispute, a court has heard.
Nigel and Margery Gibbs, who are in their 60s, needed treatment for knife wounds after being stabbed last August.
Sean Hedley Tierney, 66, from Llandudno was due to go on trial at Mold Crown Court but changed his plea to guilty.
A judge will decide later if he is able to sentence Tierney after hearing more evidence or he can adjourn the case.
Judge Merfyn Hughes QC told the jury panel that Tierney attacked the pair on 20 August with a large combat knife and "stabbed them a number of times".
He said: "They had not been getting on and the defendant decided that he would put an end to it by attempting to murder both of them.
"Both are very lucky to be alive."
Tierney denied attempted murder on his arrest after the incident at a property in Ffordd Dulyn and pleaded not guilty during a court hearing last October.
'Snapped'
But shortly before the jury arrived in court on Monday he changed his plea to guilty.
Defending barrister Sion ap Mihangel said it was clear that the neighbours had fallen out and his client felt they were continuing to antagonise him.
"Whether or not they were, that was his mindset at the time," he explained.
He said that the defendant could not remember what occurred but accepted he lost his temper, he snapped and had thought that he had killed them.
Mr ap Mihangel applied for the sentence to be adjourned for a pre-sentence report to be prepared.
But the judge said that he would decide on that issue when he had heard an outline of the prosecution case later.