Llandudno Junction phone line delays for new homes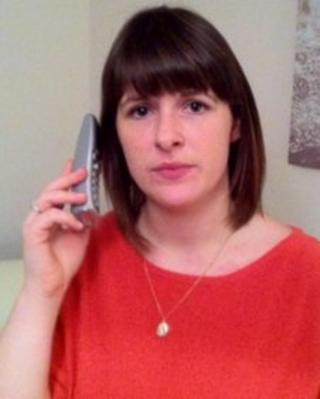 Residents who moved into new homes in Conwy have been waiting up to eight months to have phone lines installed.
Owners of 15 properties in Llandudno Junction say they are unable to make landline calls or use it to access the internet via a broadband connection.
BT Openreach has apologised and says it needs permission to dig up a main road to carry out "major engineering work".
"I've been messed around," said Becci Dowle who bought her home in Lon Bedw last summer.
She had asked for a phone line and broadband to be installed a month before she moved in.
"I've resigned myself to having no phone and just living with my mobile," she said.
"But that costs extra because it's the only way we can get online to do banking and other day to day stuff.
"You soon realise how much you need a land line as part of every day life."
Residents say they have been told that Victoria Drive, the main road which passes the estate, does not have enough cables to connect them to the exchange.
They say they have been told the only way to solve the problem is to dig the road up.
'Frustration'
Ms Dowle added: "The phone handset, the internet router, the socket - it's all there, ready waiting for the line.
"The annoying thing is that they've sent engineers out here - one of them came all the way from Liverpool.
"Surely before they send an engineer out, they should know there are no wires from the exchange to connect to? It's like they don't even know what's going on themselves."
Another resident, Ashley Court, complained that residents were not being given much information on what was happening.
"It's ridiculous. They arrange appointments to come and install the phone line, but no-one bothers turning up."
A BT Openreach spokesperson said: "Openreach would like to apologise to those people on the estate for the delay in providing phone service and fully appreciates the frustration this is causing.
"This is because major engineering work is required to increase capacity in the existing network feeding this new development by laying a new underground cable.
"Openreach is currently in negotiation with the local highways authority to get the necessary permissions so that civil engineering work can start as soon as possible."