Talysarn post office: Men jailed after robbery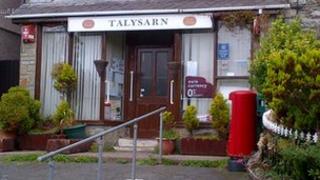 Two men who carried out a robbery at a village post office in Gwynedd while armed with hammers have each been jailed for four years.
Llion Hughes, 30, and Simon Hughes, 39, both of Caernarfon, admitted the raid at Talysarn early on 12 September.
Caernarfon crown court heard the men took Euros and Sterling worth more than £6,300 in front of a woman employee and three customers.
One of the robbers smashed a security partition with a sledgehammer.
The court heard that the men, their faces covered with scarves, then fled in a car.
Heroin addict Llion Hughes, jailed in 2011 for robbery, was arrested within an hour while hitchhiking at Penygroes and flagging down a car containing two detectives.
His mobile phone received frantic calls and texts from his accomplice trying to find out where he was, the prosecution said.
Judge Philip Hughes said it was a "determined, persistent attack on the premises with hammers to get at the money".