Anglesey Aluminium: Jobs warning as plant could close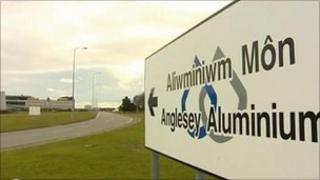 Workers at Anglesey Aluminium have been warned that there is "strong likelihood" of the plant closing.
The smelting operation closed at the works in Holyhead in 2009 with the loss of nearly 400 jobs.
About 80 staff remain at the site as part of a decommissioning process and its remelt business.
The company said it is consulting the workforce about the future of the plant, while the Unite union says the situation "doesn't look positive".
Anglesey Aluminium Metal (AAM) said increased competition, a rise in material costs and a drop in demand for its products means that the business is facing "severe operating losses".
Following a consultation meeting on Wednesday, employees have been told that although there is a "strong likelihood of closure", the consultation process will continue.
"As soon as a final decision has been made AAM will make an announcement to their employees and various stakeholders," it said in a statement.
"AAM understands that it is a difficult time for their employees and will continue to ensure that health and safety remains the priority at the plant and will continue to investigate any potential money saving and value creation opportunities put forward by the Union and site representatives."
John Hamilton, regional officer with Unite, said further meetings will be held during the next week before the company's main board makes a decision on the future of the Penhros site.
He said the company is reviewing its plan to continue operations at the plant until June 2014.
"The situation is that because of the volatility of the market, they have been looking at redundancies and other ways of reducing costs and overheads," he said.
"Unfortunately, it doesn't look as if the market will improve and we are now in discussions about the viability of the site. No decisions have been taken, but the situation doesn't look positive.
"We'll be holding further talks on Friday and into next week to look at the possible alternatives with regard to safeguarding the site and the consequences of any closure."
A number of plans have already been put forward regarding the future of part of the site.
These include building homes for construction workers who would be involved in building a new nuclear power station at Wylfa.
The former smelting works is currently run as a country park.
Anglesey Aluminium is jointly owned by Rio Tinto Alcan and Kaiser Aluminium and was formed in 1971.