Llandudno north shore beach to be re-stocked with sand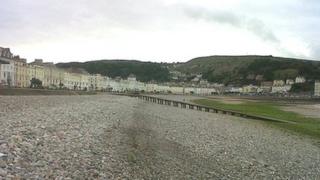 A thousand tonnes of sand is being moved across a popular resort to re-stock one of its beaches.
Llandudno has two beaches, but one has hardly any sand left and the other has too much.
Officials at Conwy council said moving spare sand to north shore beach was an obvious solution, though they stressed it would only work in the short term.
Hoteliers in Llandudno claim sand has been disappearing from the beach for several years.
Geoff Lofthouse, the general manager of the Imperial Hotel, cancelled a sandcastle competition last summer because there was not enough sand.
He said: "I think everyone when they come to the seaside expects to see a sandy beach.
"We used to have one many years ago, but when they put new sea defences in, we seemed to lose it.
"I think it makes a big difference if people can get on the beach and play with the children.
"We still give away buckets and spades to all the children when they check in during the summer, so it would be nice to have a bit more sand there."
Causing problems
Work to move the sand will cost £10,000, and is being done at the same time as other beach maintenance to keep costs down.
Liberal Democrat councillor Mike Priestley, the council's cabinet member in charge of the work, said: "There's an issue on the north shore that the sand has been disappearing, and people on the west shore side of Llandudno have been complaining for years about sand blowing about.
"There's a large mound of sand about four feet high on the west shore which is just causing problems.
"This is an obvious opportunity to move sand from one place to the other.
"We'll also be improving our beach management to try and keep the sand in the right places."
Independent councillor Graham Rees, cabinet member for tourism, said the decision showed the council was listening to people in the tourist trade.
"This will help tremendously from the tourism point of view," he added.
"That's where the money comes in to this area. Tourism is worth around £600m a year to Conwy county. It's important we protect the industry."
Mr Priestley added: "We can only re-stock part of the north shore beach, and we need to look at ways to stop the sand washing away in the long term.
"Someone did ask if we'd be doing it with buckets and spades, but we'll be getting some large mechanical equipment coming in."