Beaumaris pier pontoon is fixed after storm damage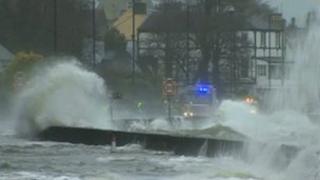 A storm-damaged pontoon near Beaumaris pier is being repaired and should be reopened before Easter.
The bad weather and high tide in December which damaged the structure also caused flooding and closed the main A545 road.
The pontoon was put in as part of £5.6m Anglesey coastal environment project to improve facilities along the island's coastline, and was completed last June.
A local councillor said the damage needed to be fixed as soon as possible.
The structure which goes up and down with the tide at the end of the pier allows easier to vessels.
Anglesey's maritime officer John Owen said it sustained a "small amount of superficial damage during a combination of a storm and high tide on December 14th".
He said part of the pontoon had been removed for "safety reasons and ease of access to the damaged area".
"A full inspection was recently carried out and contractors are now on site carrying out repairs.
"We hope these repairs will soon be finished so that the pier can reopen fully before Easter."
Town councillor and leisure cruise operator, Stan Zalot, said some the repair work needed to be carried out as soon as possible.
"The damage to the pontoon will affect the tourist trade as it well used, and helps to assist less able bodied people to get onto the boats.
"The only saving grace really is that the steps were left on the pier when the refurbishment was carried out, so we could use those instead, but it's not ideal," he said.