Work under way to save Newborough Warren dunes and wildlife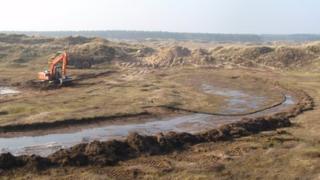 Work is under way to try and clear vegetation which is "choking" one of Wales' best-known sand dune systems.
The Countryside Council for Wales (CCW) says the dunes at Newborough Warren and Ynys Llanddwyn National Nature Reserve, on Anglesey, are "over-stabilised".
It blames too much vegetation and says rare plants and insects have been "driven to the brink of extinction".
Large diggers are now clearing grasses and soil to help rejuvenate the dunes in a pilot project.
CCW says sand dunes in the UK have become more stable because of diseases like myxomatosis - which reduced the rabbit population and led to less grazing - along with increased carbon dioxide, atmospheric nitrogen and an increasingly wet climate.
It says recent research shows 94% of Newborough Warren's open, mobile sand dunes have been lost.
Graham Williams, CCW Newborough warden, said: "Just three per cent of the dune system at Newborough is now bare sand and much of that is in localised patches.
"It shows just how much the reserve has become heavily vegetated over the years.
"The diggers at work may look heavy-handed, but this important management is clearing away the thick thatch of choking grasses and dark soil, to reveal bare sandy areas which are an ideal seed bed for rare plants and home to endangered dune insects."
Newborough Warren and Ynys Llanddwyn National Nature Reserve is a Special Area of Conservation and Site of Special Scientific Interest.
It is hoped that improving the habitat will "boost the survival chances" of some of the sand dunes' rarest plants and insects, including petalwort, sand wasps, mining bees and rare beetles.
Mr Williams added: "With some intervention now, I'm confident that rare insects will start to re-colonise the areas almost immediately, and rare plants will find a foothold within two years.
"By halting the loss of nationally significant species and habitats, we'll be going some way towards restoring the diversity and balance of habitats in the dunes once again."
CCW says the rejuvenated dunes will also "provide a more dynamic coastal defence system which can adapt to storms and sea level change."
The project is part funded by Pond Conservation.