Armed robber steals cash in Llandudno Junction bank raid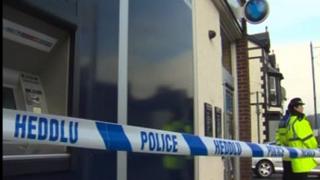 A man with a hand gun stole cash from a bank during a robbery in Llandudno Junction, Conwy.
The raid took place at Barclays Bank in Conway Road at around 14:30 GMT.
He ran in the direction of the Maelgwyn public house opposite the bank and into one of the surrounding side streets, said North Wales Police.
The force is appealing for anyone with information to call 101 or independent charity Crimestoppers on 0800 555111.
Police said the robber had what appeared to be a hand gun and made off with "an undisclosed amount of cash".
Det Sgt Tony Underhill said: "The man is about 5ft 8in tall, of thin build, and was wearing a navy blue tracksuit and possibly a hoodie underneath.
"He was also wearing a multi-blue coloured hat with a fleece covering the ears.
"No-one was injured during the incident."