Ogwen Valley, Snowdonia: Man dies in Glyder Fawr fall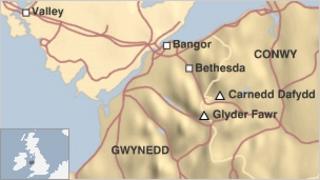 A man has died after falling from a snow-covered mountain in Snowdonia.
He was flown by helicopter to hospital in Bangor following the fall about 2,500ft (760m) up on Glyder Fawr above the Ogwen Valley.
But attempts to revive him en route by the crew from RAF Valley failed as he later died in hospital.
Crews later rescued a couple who had become stuck in the snow on the other side of the valley.
The walkers, who were in their late twenties, were winched to safety from their position 2,000ft (610m) up Carnedd Dafydd.
Chris Lloyd of Ogwen Mountain Rescue Team said someone had seen the man fall a long distance, while the stranded pair had been "on a summer walking route".
He added: "Conditions are hazardous. There is a risk of powdered snow avalanche and there is also a hard crust".
Earlier this week, Snowdonia National Park officers warned people not to go into the mountains of north Wales over Easter unless fully prepared.
Two separate rescues took place on Monday involving a total of six people and a further two rescues of walkers during during a 24 hour period happened in the last few days.
On behalf of the Mountainsafe Partnership, John Grisdale, chairman of the Llanberis mountain rescue team, said: "There is an incredible pressure on our rescue teams at the moment.
"It is difficult enough to rescue troubled walkers when the weather is pleasant, but saving walkers in weather like this is difficult and time consuming and totally unnecessary.
"When snow is frozen hard, it is very slippery and extremely treacherous underfoot.
"You should also remember that the temperature in the mountains is much lower than the temperature on the ground and wind chills can be as low as -20C in the mountains of Snowdonia."
Helen Pye, National Park warden on Snowdon, added: "If people want walks that are more challenging during the next few weeks, remember that you do not have to go to the peaks of the Snowdonia mountains to experience adventure.
"Snowdonia has a number of suitable walks which do not require special equipment.
"Remember that the peaks of Snowdonia have been here for thousands of years, and they'll continue to be here when the weather is better."