Anglesey council election: 107 candidates for 30 seats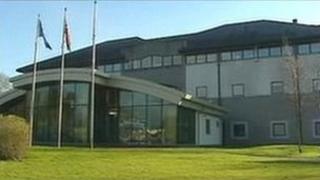 A total of 107 candidates will campaign for 30 seats in next month's delayed Anglesey council election.
Local authority elections were put off for a year in 2012 because Anglesey council was being run by commissioners appointed by the Welsh government.
The election, on 2 May, will see 30 councillors representing 11 electoral divisions - a reduction from 40 members representing 40 wards.
A full list of candidates is available after nominations closed on Friday.
Commissioners were appointed to run the local authority following an auditor general's report on the council in March 2011.
It recommended a programme of "democratic renewal," and a review of electoral arrangements at the troubled council following a failure of political leadership.
As a result, next month's election comes 12 months after the rest of Wales.
The nomination period for candidates closed at 12:00 BST on Friday, and 107 people will contest the 30 seats on the new-look council.
Eight of the new wards will be represented by three county councillors - Aethwy, Caergybi, Canolbarth Mon, Lligwy, Seiriol, Talybolion, Twrcelyn and Ynys Gybi.
Three electoral wards - Bro Aberffraw, Bro Rhosyr and Llifon - will be represented by two councillors.
Richard Parry Jones, the returning officer, said: "The political landscape of Anglesey will change after this year's county council elections as 11 new multi-member wards are created.
"We're extremely pleased that all 11 wards are being contested as we've made a concerted effort to raise the profile of these elections, given the boundary changes and the fact that we're the only Welsh local authority holding county-wide elections in 2013.
'Keen competition'
"The high number of candidates and keen competition in the new wards certainly shows that the democratic process on Anglesey has been reinvigorated as the elections on 2 May draw near."
In 2004, 14 of the then 40 seats available were uncontested. In 2008, seven seats were uncontested.
A small number of the 40 town and community councils on Anglesey will also be holding elections on 2 May.
Anyone who has not registered with Anglesey's electoral services team by 17 April will not be eligible to vote.