Poisonous rhododendron threat to Snowdonia sheep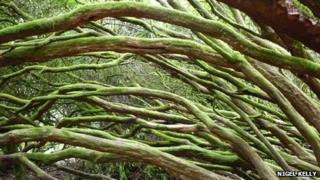 Sheep are dying on snow-covered hillsides after apparently being driven to eat poisonous rhododendron leaves.
Farmers in Snowdonia say they have lost stock as sheep struggle to find grass, and are eating the toxic green leaves.
The plant is a major problem across parts of the national park after it was introduced by gardeners in the 19th Century.
Despite an eradication programme rhododendrons still cover about 2% of the national park's land.
Officers from the national park are now warning farmers to be vigilant if they have stock in areas covered by the plant.
The worst-hit parts of Snowdonia include Mawddwy, south and north of the Mawddach, the Vale of Ffestiniog, Glaslyn and Gwynant areas, and Betws y Coed.
"The rhododendron ponticum plant is very deceptive," said the park's head of agriculture and conservation, Rhys Owen. "Although it looks great when it blooms, it is highly toxic to most animals, birds and insects."
"As spring is late this year, and the land has been bleak and gray, the rich green leaves of the rhododendron are appealing to sheep.
"However, its effect on the farmer is costly, so we're appealing to the farmers in Snowdonia to be cautious of their sheep around this toxic plant."
Lost livestock
The plants were first introduced to the Beddgelert area of Snowdonia by Victorian gardeners, but soon spread to surrounding hillsides and across the national park.
A concerted programme to control the species was launched in 2008 by the national park authority, alongside teams from Natural Resources Wales, The National Trust and Gwynedd Council.
The warnings over rhododendron come as many hill farmers in parts of Snowdonia are still reeling from losses caused by the heavy snowfall at the end of March, which buried livestock under huge drifts.
Last week the Welsh government extended the period in which rules were being relaxed to allow farmers to bury dead animals on farmland because of the extreme weather.