St John's Wort boosted by Gwynedd cliff scrub clearance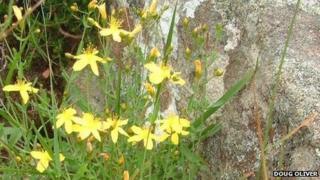 A rare plant is getting a stronger foothold on cliffs in Gwynedd after scrub was cleared.
The flax-leaved St John's Wort is now spreading at Craig y Dre in Tremadog, according to Natural Resources Wales (NRW).
Before the scrub was cleared there were only six individual plants on the site, but now there are 21 separate colonies with 200 individual plants.
In Wales it is only found on three south facing cliffs in the north.
"Thanks to the clearance the plant is now present over a large area of the cliff above Tremadog Square," said Doug Oliver, NRW national nature reserve warden in the area.
The scrub removal was carried out in 2011 but it has taken until now for the benefits to be seen as the plant takes two years to flower from seed, he said.
The plant is more at home on the Canary Islands and favours south facing steep ground, and can grow in drought-like conditions, he added.
"One of the biggest challenges in monitoring the success of the plant was that it only grows on very steep cliffs, accessible only by ropes.
"It is well worth the effort - I'm delighted with the improved situation this year."
The aim now is to build on what they have learnt about managing the vegetation to maintain the population and hopefully help it to spread, he added.