Welsh Country Foods meat plant workers finish last shift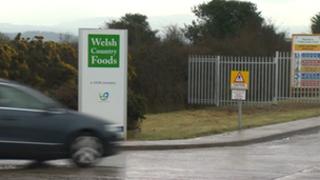 Around 310 workers at an Anglesey meat plant have finished their last shift after efforts to find a buyer failed.
Dutch firm Vion gave redundancy notices to the entire workforce at Welsh Country Foods at Gaerwen on Thursday.
The company said it had tried everything to avoid closure but it had been unable to identify any viable alternative.
The Hybu Cig Cymru meat promotion agency said the closure would also deprive it of funds to promote produce.
Dafydd Roberts, who worked at the plant for 15 months, said that despite the difficulties of losing their jobs the workers were in good spirits for the last shift and were planning to go out to drown their sorrows on Friday night.
"It's been enjoyable work with good pay and a good crowd to work with," he said.
"It's now time to move on, but it will be pretty difficult to find a new job.
"A friend of mine, and his wife, both work there so they've lost two pay packets, and it's a big loss."
Hybu Cig Cymru (Meat Promotion Wales) described the closure as a "huge blow" for the industry and economy of Anglesey.
"With over 300 jobs going it's a major body blow and north Wales has lost its largest processing plant," said Gwyn Howells, the agency's chief executive.
Mr Howells said the plant had a strong track record of supplying lamb all over the world, and had expertise in producing "a top quality product".
Customer awareness
Farmers will now have to find alternative routes to market for their Welsh lamb, he added.
The agency will also lose around half a million pounds in its funding to promote Welsh meat.
"We collect what are called levies or taxes at the point of slaughter, when that point of slaughter is in Wales," said Mr Howells.
"So obviously if we don't have slaughter houses in Wales we don't have the means of collecting the levy which is used for promoting our products not only in the UK but also abroad."
"The knock-on effect will be that we'll have to look very, very hard at what activities we undertake on behalf of the industry."
This could mean less customer awareness of Welsh meat, he said.