Bala: Cake Crew creates 25 jobs to meet cupcake demand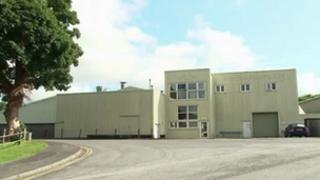 A Gwynedd bakery says it is creating 25 new jobs to meet demand for its cupcakes.
Management at The Cake Crew (TCC), located at The Bala Bakery, say there has been a growth in orders from supermarkets.
TCC was set up in 2011 to buy the business and assets of the former Berwyn Bakery.
In August 2012 the business suffered a setback when 100 workers were locked out of the bakery by its then landlord.
"We are delighted that the growth in orders from national supermarket retailers for our range of cupcakes," the company said in a statement.
"We would like to thank the Bala workforce for its excellent performance in gaining this additional business.
"Their dedication to the production of a quality product manufactured in Wales is clearly paying off in terms of winning additional business."
Dilwyn Morgan, the Gwynedd county councillor for Bala, welcomed the jobs announcement.
"Every job in an area like Bala is important because each one means a wage earner for a family, and to have 25 new jobs at the same time is heartening news for the area," he said.
The company said that since being locked out of the bakery last year investors in TCC had bought the property to prevent it happening again.