Dwr Cymru saves 400 jobs after Daniel Contractors collapse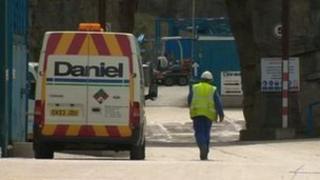 About 400 jobs in Wales have been safeguarded following the collapse of a Cheshire-based civil engineering firm.
Daniel Contractors, which went into administration on Wednesday, provides workers for Dwr Cymru to provide a maintenance service.
Dwr Cymru has told the workers it has appointed an emergency contractor take over the work.
The move is part of a pre-arranged plan following the uncertainty over Daniel Contractors' future.
Business advisers Deloitte confirmed on Wednesday they had been appointed administrators to the company and to subsidiary Land Marine Project Engineering Limited.
The administrators said they aimed to transfer the company's main contracts to safeguard nearly 1,000 jobs in total.
Dwr Cymru said it had been monitoring the situation at Daniel Contractors for some time and had been taking steps to line up alternative suppliers.
In a statement on Wednesday it said: "On this basis we have appointed Enterprise Utility Services as an emergency contractor to undertake the contract and our arrangements with them will come into effect from midnight tonight.
"They have been selected through a competitive process and have a five month contract with us as part of this emergency contingency arrangement.
"Over the next few months we will complete the procurement process with Enterprise and the other three companies we have invited to tender for the longer term contract vacated by Daniel's.
"The above arrangements ensure that not only can we continue to deliver service to customers but that Daniel staff who have had to contend with significant uncertainty over recent weeks have continuation of employment via TUPE transfer to Enterprise.
"We are very grateful for the commitment that local Daniel's staff have shown by continuing to deliver day to day service whilst the company has been in such difficulties."
It is understood the arrangement safeguards jobs at seven Daniel sites in Wales - Bedwas near Caerphilly, Clydach in Swansea, Dinas near Caernarfon, Old Colwyn, Pontypool, St Mellons in Cardiff, and Withybush in Haverfordwest.
North Wales Conservative AM Antoinette Sandbach welcomed news of the intervention by Dwr Cymru, which she understood was in the process of buying the Daniel depot in Old Colwyn.
She said: "I met Dwr Cymru senior staff on Wednesday to discuss the situation, which affects around 400 people in Wales, including more than 150 in north Wales.
"The news the company has moved to swiftly safeguard the future of these jobs, and the Old Colwyn site, is excellent.
"These are good, skilled jobs, which are important to the economy of north Wales."