Bontnewydd-Caernarfon bypass route U-turn by minister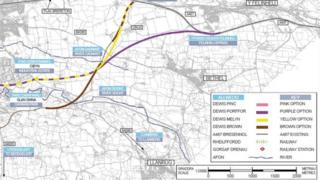 The Welsh government has changed its mind over the route a controversial bypass in Gwynedd will take, which will save about £10m.
Economy and Transport Minister Edwina Hart said the new Bontnewydd and Caernarfon bypass will make use of existing road infrastructure between Felinheli and Bethel.
It will join at an existing roundabout near the Plas Menai centre.
The new £85m road is needed to relieve daily queues south of Caernarfon.
The Welsh government and residents in Felinheli and Bethel disagreed on the route the bypass would take since it was proposed more than three years ago.
Ministers backed a "purple" route option but campaigners feared it would damage good farmland, cost more, cause more accidents and close a historic back road.
They preferred a "yellow" option because it made use of existing road infrastructure.
Now the Welsh government has made a U-turn and backed the yellow option.
A Welsh government spokesperson said: "Following the completion of a review of the available options the minister concluded that the new preferred option represents a better solution, particularly in light of budgetary pressures."
The new route is 6 miles (10km) in length and passes west of Crug, joining the existing A487 at the Plas Menai roundabout.
The spokesman added that the next stage would be to appoint consultants and a contractor to develop the scheme and take it through the statutory processes.