Bala caravan fire injures family of seven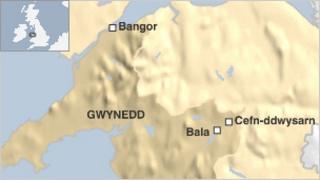 A couple and five children have been taken to hospital after a fire which destroyed their caravan at a park in Gwynedd.
The incident happened just before 08:00 BST at Cefn Ddwysarn near Bala.
An electric heater set the touring caravan's awning alight, leaving a 40-year-old man with hand and chest burns.
His partner, 34, and children aged six months, two, five, six and 13 have also been taken to hospital for treatment for smoke inhalation.
The North Wales Fire and Rescue Service said it was a timely reminder of the care needed when using caravans or camping.
Paul Whybro from the emergency service said: "Caravans and tents are potentially more hazardous as the inherent risks are magnified in confined spaces.
"This fire destroyed the family's touring caravan.
"Fire can strike at any time, anywhere - and it is vital that we are all on our guard and try to do all that we can to keep safe."
Gas warning
The fire service said it was issuing a safety warning as the weather improves and people are likely to venture out in their caravans and tents over the bank holiday weekend.
It comes almost two years since a caravan fire at Barmouth in Gwynedd, in which two men lost their lives and a two-year-old-girl was seriously injured.
The fire service also stressed the importance of being aware of carbon monoxide gas dangers.
"The risk of carbon monoxide poisoning from a barbeque left to smoulder cannot be over emphasised - portable barbeques must always be used in an area with proper ventilation, preferably outside, due to the potential rapid build up of the deadly gas," said Officer Whybro.
"Low levels of exposure can cause dizziness, headaches and flu-like symptoms - the gas can quickly render someone unconscious by depriving them of oxygen and at high levels it can kill in minutes."