Snowdon: Pillars to guide walkers on paths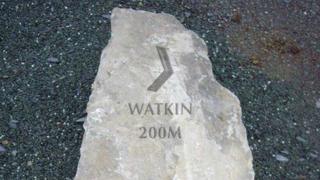 Pillars are being placed on Snowdon to encourage the hundreds of thousands of who walk up Wales' highest mountain each year to keep to the paths.
Snowdonia National Park Authority hopes the stone pillars will help people who tend to get into difficulties in the same places.
But it said they will not affect walkers' enjoyment.
Llanberis mountain team rescuers, who were called to 176 incidents last year, welcomed the move.
The team's chairman John Grisdale said it was recognised that Snowdon, which has a railway running up it and a cafe at the summit, was a "honeypot" for visitors.
"It's hoped the pillars will stop people straying the wrong way and then getting into difficulty higher up the mountain," he added.
Problematic
In 2012, there were more than 360,000 walkers who ascended Snowdon.
Six of the recycled stone pillars marking the main paths up the mountain - Llanberis Path, Rhyd-Ddu Path, Snowdon Ranger Path, Miners Track and the Pyg Track - are being erected over the next few weeks.
Eventually, the national park authority said there will be 13 in places that have been problematic for walkers in the past.
For instance, a pillar will mark the intersection of the Llanberis and Snowdon Ranger paths, which the authority said walkers often mix up.
It said another will be placed at the summit to identify where the Watkin Path begins while another one will identify the dangerous Bwlch y Saethau which walkers often make the mistake of descending.
Mair Huws, head of wardens and access at the National Park Authority, said: "Obviously, we can't ignore all the incidents that occur on Snowdon.
"Erecting signs all over Snowdon is not acceptable, therefore placing these stone pillars on the mountain is sustainable, it is a convenient way to keep people informed without being intrusive, and will not affect people's enjoyment of the mountain."
She added: "By placing them in this way, our hope is to create as little impact on the landscape and the atmosphere of the mountain as possible, encouraging walkers to be safe and responsible at the same time."