Llandudno sailing club cancel's Contender championship over slipway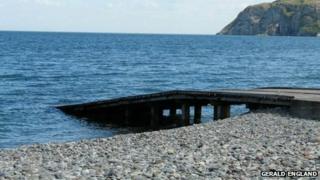 A sailing club has been forced to cancel a championship event after storms washed away part of its slipway.
Llandudno sailing club was due to hold its Contender championship in August but the last 5m (16ft) of the imperial slipway were destroyed last month.
Commodore Gareth Roberts said a replacement could cost £300,000 but added the harbour authority had been "very positive".
The club has been given temporary use of the RNLI's concrete slipway.
Mr Roberts said: "Unfortunately, we wouldn't be able to use the RNLI's slipway for the championship in case they needed to get out quickly.
"The town council have been positive and so has the harbour authority."
Harbour master Matthew Forbes said: "The wooden structure of the imperial slipway was damaged on 23 May by strong northerly winds and seas; we started assessing the damage immediately.
"We are in contact with members of Llandudno sailing club and have offered the club temporary use of the RNLI slipway.
"In the meantime, we're obtaining quotes for the potential repair of the slipway, and we're also reviewing our existing plans and funding options to demolish the Imperial slipway and construct a new concrete slipway further around the bay."