Ysgol Glanadda, Bangor demolished 18 months after arson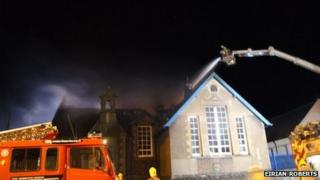 A school in Bangor, Gwynedd, has been demolished more than 18 months after it was badly damaged by arson.
Ysgol Glanadda, a listed building dating back to 1888, had been shored up with scaffolding since October 2011.
A fire service investigation found the fire was started deliberately.
Although local people hoped the building could be saved, Gwynedd council said it no longer had any use for the site, which will now be put up for sale.
North Wales Police and the fire service investigated the blaze which was discovered just after midnight on 29 October, 2011.
The former school building housed the Bryn Llwyd unit which provided educational support for pupils who are no longer in mainstream school.
At the time of the blaze Gwynedd council said it was considering a number of options on the future of the building, which dates back to 1888.
Ioan Thomas, the Gwynedd council cabinet member with responsibility for property matters, Ioan Thomas, said: "Work is currently being carried out to demolish the former Brynllwyd education unit which was significantly damaged by a fire.
"As Gwynedd council does not have a use for the site, we will be making arrangements to market the site on the open market in the near future."