Llanberis quarry break-ins prompt swimming warning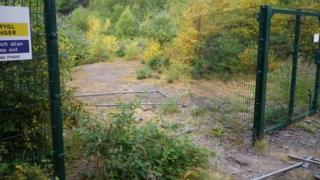 Swimmers are feared to have been breaking in or scaling a 6ft-high fence to reach water filled quarry holes in Snowdonia, prompting safety warnings.
Site owner Gwynedd Council says dangers include underwater currents and the extremely cold water temperature.
A spokesman said parents should also warn children against taking a dip there during the current warm weather.
More patrols have now been put in place by North Wales Police at Glyn Rhonwy near Llanberis.
"We are extremely concerned that some members of the public are choosing to ignore the danger signs," said Coun John Wynn Jones, Gwynedd council's economy cabinet member.
He said they had been either climbing over or vandalising the fencing to swim in flooded quarry holes.
"These quarry holes contain a number of hidden hazards that will often not be appreciated by those who do not have a detailed knowledge of the site.
"In particular, the quarry pools that are being used for swimming by trespassers contain a number of potentially lethal hazards including underwater debris and jagged slate shards."
He warned that the water temperature in the pools could also be "dangerously cold" even during prolonged spells of warm weather.
Mr Jones said the matter had been reported to North Wales Police.
"Our message to the public is simple - please keep out of this dangerous site.
"We are also appealing to parents to educate their children about the dangers of trespassing on old industrial sites and to avoid swimming in any pools or lakes which may contain hidden dangers such as underwater currents or sudden deep water," he said.
PCSO Val Worth said the Llanberis neighbourhood policing team was working closely with the council.
"We have increased patrols in the area and are urging people to heed the warnings issued by the council in relation to swimming in this hazardous environment," she said.
The site has been empty for a number of years and is currently the subject of a planning application to create a £100m hydro-electric scheme.
Conservationists claim the dam needed for the planned scheme could spoil a beauty spot on the edge of Snowdonia National Park.
The developer the Quarry Battery Company has said it will do everything to minimise the impact.
Previously another company withdrew its plans for a ski centre at the site.