Swanland sinking: More failings uncovered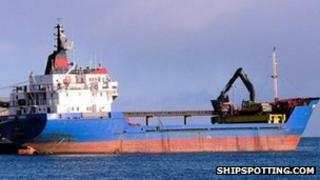 Nearly two years after a cargo ship sank off Gwynedd killing six Russian crew, a BBC investigation has found more failings in its registration and safety check systems.
Authorities in the Cook Islands admit they broke their own rules because the Swanland had not been properly checked.
But they deny the islands are used as a 'flag of convenience'.
The ship's operator, Torbulk Ltd, said they believed it met all standards and was safe to set sail.
The sinking in November 2011 off the Llyn Peninsula was outside UK territorial waters.
The bodies of ship master Yury Shmelev, 44, chief engineer Geeadiy Meshkov, 52, second engineer Mikhail Starchevoy, 60, Able Seaman Sergey Kharchenko, 51, and ship's cook Able Seaman Oleg Andriets, 49, remain lost at sea.
Second Officer Roman Savin, 27, and Able Seaman Vitaly Karpenko, 48, were airlifted to safety and Chief Officer Leonid Safonov, 50, was pronounced dead after his body was recovered from the sea shortly afterwards.
The authorities on the Cook Islands told BBC 5Live Investigates mistakes were made because the Swanland should have been subject to an 'enhanced survey' because of its age and cargo it carried.
There were also questions about the qualifications of the surveyor who carried out checks on the ship before its registration, they said.
'Screwed up'
Earlier this year an investigation by the Marine Accident Investigation Branch (MAIB) said the Swanland had not been properly maintained and was severely weakened by corrosion.
Glen Armstrong, managing director of Maritime Cooke Island, which runs the flag register for the islands, told 5Live Investigates his reaction to the sinking had been of "shock and horror... I couldn't think of anything worse to happen".
Asked why the ship was allowed to register without the enhanced survey, Mr Armstrong said "good question".
"Obviously we screwed up and we should have done it.
"If we had done it, would it have made difference? I'm not sure.
"But we didn't follow our own rules and conditions. What should have been imposed was not imposed due to human error."
Mr Armstrong said there would be no action taken against anyone in this case.
He denied that the Cook Islands provided a "flag of convenience".
"There are lessons to be learned for certain, but to hold an individual, or more than one individual, personally culpable for the death of these people is quite a long bow to draw and a whole legal process to go through, and nobody has suggested we do that," he added.
British authorities have not been involved as the ship sank just outside the 12 mile limit of UK territorial waters.
Charles Boyle, the legal director with the Nautilus trade union, argues they should become involved because the Swanland broke UK regulations when it "regularly" sailed within UK waters.
He added he did not expect the Cook Islands to "do anything at all" and that the "fragmentation of interests" in the maritime industry compounded the problem.