Dr Eilir Morgan crushed by digger bucket, inquest hears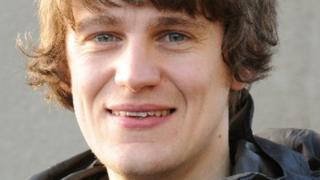 A university lecturer died when he was struck by a mechanical digger's bucket and crushed against a wall, an inquest in Caernarfon, Gwynedd, has heard.
Dr Eilir Morgan, 29, was helping with re-building work at the farm where he lodged in Llanrug in April.
Dr Morgan, who worked at Bangor University, died of a head injury.
Recording a verdict of accidental death, coroner Dewi Pritchard-Jones said it happened when the lever got caught in the coat of the driver.
Dr Morgan was a lecturer at Bangor University's School of Ocean Sciences.
He was helping with rebuilding work and the digger was being used to break up concrete. A woman operating it was getting off and her coat caught on a lever, the inquest heard.
Pathologist, Dr Mark Lord, said death was due to a head injury.
Recording his conclusion, Mr Pritchard-Jones said the accident was caused "entirely because the lever had been caught by the coat".
It was entirely unforeseen and unexpected, the inquest heard.
A family tribute described Dr Morgan as "a special son, brother, boyfriend and friend to many".
It added: "It's very difficult to come to terms with our tragic loss but it is comforting to know that Eilir accomplished such a lot in his short life and that he meant so much to so many people.
"He has left us with many fond memories."
The university said: "He was dedicated to the Welsh language and was a fantastic ambassador for the university and for Wales."