Carneddau ponies annual round-up shows population in recovery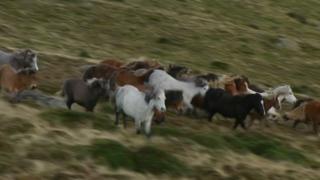 The annual round-up of the wild Carneddau ponies in north Wales shows numbers are better than feared after about 100 died during snow this year.
The ponies are gathered once a year to monitor their numbers but are otherwise left to roam free on the hills in Conwy county.
The weekend round-up saw over 120 mares brought down off the hillside along with foals and stallions.
"The numbers are pretty good to what we thought," said farmer Gareth Wyn Jones.
In March and April, the Carneddau ponies succumbed to the freezing conditions while on the Aber and Llanfairfechan mountains.
Plight
They are a unique breed and a campaign is under way by the Carneddau Mountain Pony Association to have them protected as a rare breed.
Mr Wyn Jones said the ponies play an important role in the natural management of the hillside ecology so maintaining their numbers was important.
He said local people and others who heard about the plight of the ponies earlier this year helped with the round-up.
"It was really important to round-up as many ponies as possible to get the best idea of their numbers," said Mr Wyn Jones.
"We were a little bit worried before the round-up.
"But we had 80 mares on Saturday and 44 on Sunday so we reckon to have about 160 breeding mares.
"They have never been financially viable but we keep them for their beauty and their ability to provide balance on the mountain."