Valley outdoor sports shop raid days after police station shuts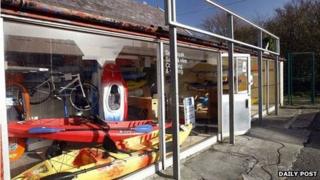 A shop owner has claimed it was no coincidence his store was broken into three days after a police station opposite closed.
Pete Baars, who owns Summit To Sea at Valley on Anglesey, lost £7,000 worth of stock last Thursday.
The outdoor sports shop opened in the village three years ago and had until last week not been burgled.
North Wales Police said it had opened a new station in Llangefni and officers would hold regular surgeries in Valley.
But Mr Baars blames the closure of the station for the break in and has been staking out his shop during the night from outside the closed police station.
"I don't think it's a coincidence," Mr Baars said.
"I've never been targeted but three days after the police station closed I get turned over."
Mr Baars's shop was broken in to on Thursday 7 November and he said he was warned by North Wales Police, who is investigating, the thieves may return.
"Ironically, I've been in my car at the police station watching from 2am until 5am every night since Friday."
Mr Baars discovered the break in last Friday.
"I pulled up outside the shop and I noticed a coat on the ground," he said.
But it was not until he went to unlock the front door that he realised the coat was his stock.
"The door opened - they had just jimmied the lock. They'd tried to get in round the back and roof."
Mr Baars admitted it had been a "tough" year for his business.
"We're now having to spend our money on security, the CCTV is costing £700. I'm annoyed - we're in Valley, not Hackney," he said.
North Wales Police said officers from Valley and Gaerwen have moved to a new station at Llangefni but insist they will visit the villages for regular surgeries.
As part of UK government spending cuts, the force has a target to save £16m by 2015.