Snowdon death fall student Jared Maillet wanted hiking record, inquest told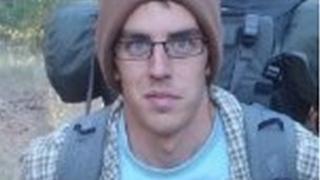 A US student had been keen to break his university's record in the Welsh 3,000ft peaks challenge when he fell to his death on Snowdon, an inquest heard.
Exchange student Jared Maillet, 21, from Maine, was with members of the Manchester University hiking club when he fell 300ft (90m) last April.
The inquest in Caernarfon heard he was "sufficiently experienced to take part in the challenge".
Coroner Nicola Jones concluded Mr Maillet's death was accidental.
Low cloud
She said: "It appears he was extremely enthusiastic, physically fit and sufficiently experienced to take part in the challenge.
"However, it's likely a navigational error has taken him along the ridge of Clogwyn y Person rather than Crib Goch."
The hearing was told there was patchy low cloud and Mr Maillet may have tried to descend to get a visual reference when he slipped and fell "a significant distance", resulting in multiple injuries.
Magdalena Borkowska, a friend and postgraduate student, said Snowdon was the first mountain in the 3,000ft peaks challenge and they set off in the dark in the morning with head torches.
She said he was keen to break the club record for the event.
Mr Maillet left Ms Borkowska behind and later his body was spotted lying in snow by another walker.