Hugh Lloyd Jones, 100, switches on Llanfairfechan's Christmas lights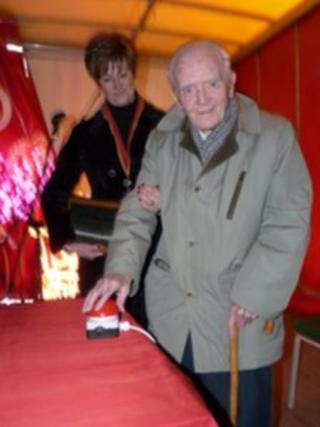 A 100-year-old who first switched on the electricity in his Conwy community 84 years ago has been given the honour of turning on the Christmas lights.
As a young apprentice electrician Hugh Lloyd Jones was asked to switch on the power in Llanfairfechan in 1929.
On Saturday, he switched on the festive lights at the town hall.
"I am looking forward. I suppose when you get to my age - 100 plus - a little bit of fuss like this... goes down well," the centenarian said.
Mr Jones said he was the first young man from Llanfairfechan - where he has lived all his long life - to be apprenticed as an electrician back in the 1920s.
Aged 16, he was asked to to take part in the official switching on of power for the community in 1929.
'Very fortunate'
That happened in a building under the stage of the town hall where he will be performing the Christmas lights illumination on Saturday.
Mr Jones also explained how he forged a career as an electrical contractor - a business which his son later joined him in - once his three-year apprenticeship was completed.
"I was again very fortunate being in the right place at the right time," he said.
"I wired the first council estate in Llanfairfechan and that helped me very much in getting more business."
He also wired the local Horeb Chapel schoolroom and house.
Royal garden parties
"At the opening night of the lighting of the chapel there were about 500 people there," he said.
"And the fact that I had been able single-handedly to do that job I had no difficulty at all from that day on in getting plenty of work. I wired the Welsh church, English church, Bethel chapel.
"So my fingerprints are on most of the electrical developments in Llanfairfechan."
Mr Jones also served as mayor of Aberconwy.
'Candles'
He said he had been honoured to attend two royal garden parties at Buckingham Palace, also meet the Prince of Wales and Princess Diana.
Being presented with his wife to the Queen and Prince Philip was possibly a highlight of his life, he said.
But the 100-year-old also admitted that times had changed greatly during his lifetime.
"I've got grandchildren and great-grandchildren and they just cant understand how a town existed without electricity.
"Naturally, they haven't seen it any different but I was brought up with the lamp on the kitchen table and candles to go to bed. That was it and nobody thought anything of it."