Abattoir offered to Welsh government by council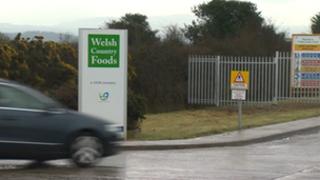 Anglesey council wants the Welsh government to consider buying a former abattoir for development.
The authority says the site at Gaerwen could then be used to attract inward investment to create jobs.
The former Welsh Country Foods plant, which closed in April with the loss of over 300 jobs, is already on the market for £1.5m.
Last week a meeting of farmers discussed a possible co-operative venture on the site.
The National Farmers Union has asked the Welsh government to fund a feasibility study into the co-operative idea.
Richard Parry Jones, Anglesey council's chief executive, said: "We are, of course, eager to ensure that the site, in the first instance, remains an abattoir through private sector investment.
"However, in the absence of a buyer, we have written to the Welsh government asking if we can discuss the possibility of them buying the site as part of the enterprise zone development programme, with a view to attracting inward investment to create job opportunities on the island."
A Welsh government spokesperson said: "The economy minister Edwina Hart has received no formal communication [from Anglesey council] but is aware of correspondence with her officials which we are considering."