Lollipop crossing concern near Holyhead school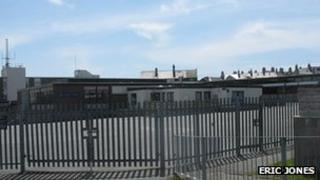 Children are being put at risk because Anglesey council are not replacing a retired lollipop man, it is claimed.
Holyhead town councillor John Knox-Crawford said the crossing to Ysgol y Parc school is used by both able-bodied and deaf and partially sighted pupils.
He has collected a 700-name petition to call for a crossing patrol to be reinstated.
Anglesey council said Ysgol y Parc had been assessed and scored "considerably less than the target" for a patrol.
"It's dangerous because it is used by deaf and partially sighted pupils and I've written to the (sight loss charity) RNIB and the (action on hearing loss charity) RNID to ask for their advice because I don't think the council has taken account of any disability," Mr Knox-Crawford said.
"I feel it is dangerous because it is just after a bend in the road and the motorist cannot see the crossing until the last minute."
Mr Knox-Crawford added he had received a "fantastic" response to the petition he had organised.
'Loss of confidence'
"I'll be going to the council too, to put in a Freedom of Information request, to ask them what their policy is about all this.
"It's not just a lack of a lollipop man it's also a loss of confidence for the children who use the crossing," he added.
An Anglesey council spokesperson said: "All schools on the island were assessed in line with school crossing patrol guidelines issued by Larosa (Local Authority Road Safety Officers Association) in 2008.
"These guidelines are used to determine whether a school crossing patrol is needed to ensure children can safely cross roads to and from school.
"Ysgol Y Parc scored considerably less than the target for a school crossing patrol and - in line with our policy - a decision has been taken not to retain a crossing attendant when the incumbent left the post.
"The same criteria will be applied should any further school crossing patrol sites on the island become vacant."