Otter cub rescued at Talsarnau, Gwynedd, after storms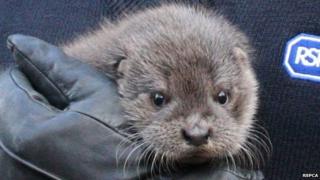 An otter cub is being cared for at a wildlife centre after being found alone and in a "distressed" state in Gwynedd.
It is believed the cub had become separated from his mother during the recent bad weather before he was found by a walker close to the village of Talsarnau, near Porthmadog.
A vet took in the 10 week old cub before he was transferred into the care of a RSPCA wildlife centre.
He could be released back into the wild when around nine to 12 months old.
"It is unclear why he was separated from his parents but the recent bad weather could be to blame," said Rob Scrivens, supervisor at the RSPCA Stapeley Grange Wildlife Centre in Nantwich, Cheshire.
"Once the otter is big and independent enough to fend for himself in the wild, we will undertake a soft release in an enclosure close to the area he was found and all being well a full return to the wild will follow."
It will be moved to a wildlife park before being considered for release.
Meanwhile, two otters have become so used to people at Aberdyfi in Gwynedd that drivers have been warned they risk running them over.
Zoologist Dr Elizabeth Andrews told BBC Wales she is amazed to see the normally shy and secretive animals being so brazen.