Tides smash north Wales coast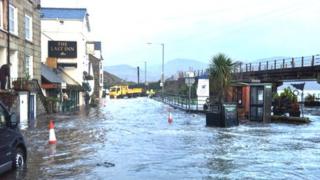 Tidal flooding has seen homes evacuated, roads closed and train lines damaged in parts of north Wales.
Exposed southern parts of Gwynedd have taken the brunt of the storm surge - the highest tides in nearly 20 years.
The sea breached defences at Barmouth, with 60 people given refuge in a Red Cross centre, set up after a severe flood warning was issued.
The RNLI and mountain rescue teams also helped rescue a family from a farmhouse at Llanbedr near Barmouth.
At Tywyn, waves crashed into streets - while washing away part of the Cambrian Coast rail line, leaving one train stranded.
At Pwllheli on the Llyn peninsula, five people were rescued from the Gimlet caravan park by the town's lifeboat and fire and rescue crews.
Barmouth's severe flood warning was lifted shortly after midday on Friday, after residents were earlier urged to move to safety in parts of the town.
"Council officers along with our partners from the Red Cross worked all night to establish the rest centre and to provide support and comfort to residents including vulnerable and older people," said Gwynedd council cabinet member, Ioan Thomas.
"Our dedicated staff are also supporting North Wales Police in their response in the area."
Waves crashed over the harbour wall in the town and breached flood doors set up across the promenade in the Heol Llywelyn and Heol y Llan area.
But while the streets flooded - the majority of homes were spared.
However, some properties close to the promenade were affected, and a man was rescued by boat from a flooded cafe on the beach.
At nearby Llanbedr, members of the Ogwen Valley Mountain Rescue joined forces with the RNLI to rescue four people from a flooded farmhouse.
Two elderly men, an elderly woman and a younger woman had become trapped by waist-deep water at the property.
Shortly after 15:30 GMT on Friday, North Wales Police confirmed that the multi-agency flood teams have now been stood down.
Ch Supt Jeremy Vaughan said: "Thankfully the number of local incidents was low.
"We had however prepared for the worst, given the fact that we had three severe flood warnings across the area.
"On this occasion whilst it was unfortunate that some properties were flooded, the impact was less severe than anticipated, this could have been very much worse."