Anglesey nursery funding cuts lead to objections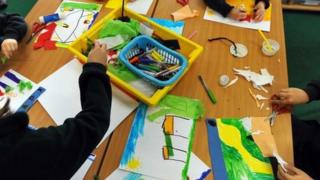 Proposals to cut funding for nursery education on Anglesey have prompted more than 200 objections.
Anglesey council said the vast majority of correspondence over its budget proposals concerned plans to save £210,000 on nursery education.
The council said it held "constructive talks" with pre-school organisation Mudiad Ysgolion Meithrin about plans to lower the primary school admission age.
It said the education of children would always come first.
The local authority confirmed it had received more than 200 letters and e-mails opposing proposals to reduce support for nursery education in the county.
A petition on Facebook also has 1,200 names.
Children could start their statutory nursery education at local schools instead of pre-school playgroups.
In a statement, the council said the quality of children's education would be given priority in any changes to early years education.
Council leader and education portfolio holder Ieuan Williams said: "Council officers have already held positive talks with representatives from Mudiad Meithrin and have agreed to work together on the future of early years education.
'Matter of concern'
"The county council also intends to hold further talks with the Wales Pre-school Providers Association in the near future."
He added: "We're aware that this is a matter of concern to pre-school organisations and we'll endeavour to work closely with them to agree a short-term solution before looking at how best to address this important issue in the long term."
The council has a statutory duty to ensure children receive 10 hours of education a week from the start of the school term after their third birthday.
In many parts of the island, those hours are provided by pre-school organisations until the September following the child's third birthday - through funding from the council - and then provided by the local school.
In some parts of the island the hours are provided entirely by the pre-school organisations.
The council's executive will discuss the budget proposals next week.