Man arrested in firearms search in Clynnogfawr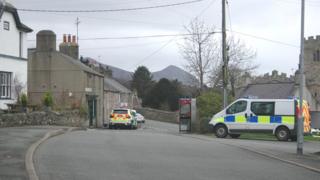 A man has been arrested after police carried out a search for unlawfully-held firearms in a Gwynedd village.
Witnesses said an armed response vehicle and the police helicopter were at Clynnogfawr on Friday afternoon.
North Wales Police said a man had been taken to a local police station for questioning.
A spokesperson said the incident was managed by local officers "supported by specialists".
Chief inspector Simon Barrasford, who led the operation, said: "Resources were deployed to the scene and our objective of recovering the firearms, protecting the public and officers and detaining the man safely has been achieved.
"I am grateful to local residents for their understanding and cooperation and we hope to return the area to normality as soon as practical."