Ex-head Ann Hughes cleared over police photo incident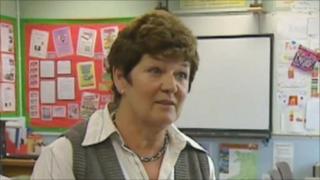 A former head teacher has been cleared of acting inappropriately by asking a police officer to tell pupils off for not smiling for a photo.
A professional conduct committee ruled that Ann Hughes, dismissed from Ysgol Goronwy Owen in Anglesey in 2011, could still work in teaching in Wales.
But an accusation of unacceptable professional conduct due to other complaints was upheld.
She was banned from working as a head teacher at the hearing in Flintshire.
The ruling was made at the end of a week-long General Teaching Council for Wales panel hearing.
In relation to the police incident, the panel said the school's liaison officer was a regular visitor and would have been well-known to children.
He had been invited to speak to the whole class generally about their behaviour and it "wasn't a request to reprimand particular pupils", the hearing was told.
Mrs Hughes, who has been a teacher for 36 years, was also cleared of calling a pupil "twp", the Welsh term for "stupid", criticising the same pupil's error in spelling his middle name, and ripping up an examination paper in his presence.
The panel also found unproved a complaint that Mrs Hughes failed to show proper sensitivity to a boy after the death of his father; favoured Welsh speakers; highlighted parents' complaints during school assembly; and engaged in excessive criticism of a pupil.
The panel accepted that she failed to ensure there was effective communication within the school and that she failed to maintain a cooperative working relationship among staff.
The school had been hit by a crisis in May 2011 when five of the six teachers called in sick on the same day.
They had earlier threatened industrial action following a declaration of no confidence in Mrs Hughes, claiming there was a "climate of fear".
Mrs Hughes was suspended three months later and was then dismissed.
Panel chairwoman Jacquie Turnbull imposed a conditional registration order which allows Mrs Hughes to teach in Wales but bans her from working as a head teacher.
Mrs Turnbull said: "It's clear Mrs Hughes has had a long and successful career as a teacher and head teacher and had a positive impact on school standards.
"We have taken into account the exceptionally difficult circumstances at the school when some teachers withdrew their cooperation."
Mrs Hughes's barrister, Annette Gumbs, said: "She was faced with a campaign for her dismissal. Despite difficult times she was able to maintain the standards in the school."