New kids prompt goat count on Llandudno Great Orme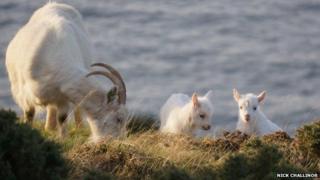 The arrival of new kids playing among a herd of wild goats on Llandudno's Great Orme in north Wales may not be a welcome sight for everyone.
Wardens have been trying to reduce the herd to 100 since the population expanded to 220 a decade ago.
A count is due to check numbers of arrivals managed as part of an on-going birth control programme.
The herd, currently 125-strong, attracts mixed feelings with concerns they roam too freely and cause damage.
The count had been due to take place on Monday but poor weather conditions led to it being postponed until Tuesday.
About a dozen volunteers armed with telescopes and binoculars will divide up parts of the Orme and concentrate their efforts on counting the animals.
About two thirds of the females have been treated to reduce their likelihood of becoming pregnant.
They have been marked with distinctive ear tags which will also allow those counting them to see whether birth control has been successful or if they have kids at their side.
At a count in 2012 the kid birth rate fell to 20. It had been up to 60 in previous years.
Autumn marks the mating season for the feral goats and they can give birth as early as February the following year.
Great Orme country park warden Sally Pidcock said the goat population has caused controversy over the years with council officials and the RSPCA called to deal with incidents and injuries.
She explained that work to reduce the numbers has been a "slow process" using birth control.
She said that some goats have been relocated when appropriate sites become available, such as land requiring natural grazing by landowners like wildlife trusts.
Ms Pidcock added that while there was "still conflict" among some people nearby, the goats no longer wander quite as far as they have in the past and which led to some complaints.
Goats have inhabited the Great Orme since the late 19th Century when the then Lord Mostyn obtained a pair for his estate at Llandudno.