19th Century Conwy fountain flows for first time in 20 years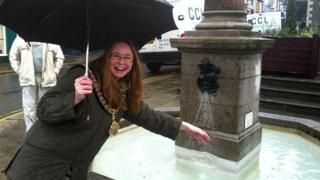 A 19th Century fountain has started flowing again for the first time in 20 years.
The water feature in Conwy town centre, which surrounds the statue of Prince Llewelyn the Great in Lancaster Square, was built in the 1890s but mysteriously stopped working about 100 years later.
But engineers have repaired the aged parts and given the feature a new lease of life.
Mayor Sam Cotton said the fountain would create a focal point in the town.
"It's great that we've been able to get it going again," she said.
"Hopefully it will provide a lot of enjoyment for residents and for visitors to Conwy."
Resident Ray Jones said: "It used to be used by the delivery men bringing barrels of beer to the pubs in the town.
"They would stop their horses and carts at the fountain for the animals to have a drink before heading down the high street to finish their delivery.
"It's good to see it going again after so long."