Pair hospitalised after taking designer drug mexxy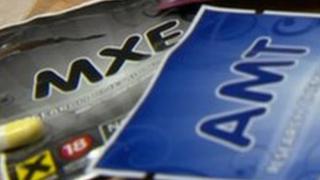 Two people who took a designer drug have been admitted to hospital, police have said.
The pair took mexxy (methoxetamine) and were taken to Ysbyty Gwynedd in Bangor, North Wales Police said.
It was previously a legal high but reclassified as a class B drug, the same as cannabis, in 2012.
Police have warned about the dangers of using mexxy, or MXE, because little is known about the risks and effects of it.
"There have been no confirmed deaths from MXE and nobody knows the long-term risks of using it, and how similar the risks are to ketamine," PC Arwyn Tudur Jones said.
"The investigation is ongoing and a full report will be produced. I would strongly urge those who supply or use MXE in particular to think hard about what they are doing and to stop immediately."
Godfrey Hayes, substance misuse programme manager at Betsi Cadwaladr University Health Board, added: "This latest incident again shows the risks that come with taking drugs and other substances in ways that are not intended.
"These risks are multiplied when people start mixing drugs, or taking them with alcohol.
"Breathing and heart function can be affected, they may cause nausea and then choking risks, as well as putting people at greater danger of accidents."