Breach in Llanbedr coastal defence holed is repaired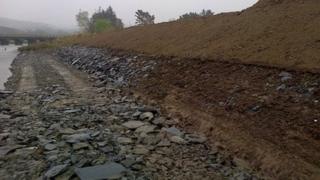 A 50m (160ft) breach in a coastal defence caused by storms lashing Wales in the new year has been repaired.
Up to 15,000 tonnes of boulders, clay and soil, some of it brought in by helicopter, have been used to fill the gap at Llanbedr, Gwynedd.
About 1,000 acres (400 hectares) of farm land were flooding twice a day after the hole was created.
The Welsh coast was battered by gale-force winds and storm surges at the start of January.
Natural Resources Wales drafted in a helicopter to provide emergency air support in the initial stages of the repair.
It transported 300 bags of fine slate over two days to fill the gap ahead of further predicted high tides.
An access road was then built to the site for the repairs which took 12 weeks to complete.
The new section of the bank has a solid clay core and is surrounded with boulders and is covered with topsoil.
A spokesperson from Natural Resources Wales said: "These were the worst storms to affect the Welsh coastline in many years, causing damage, disruption and flooding to many people - the memories of which remain fresh in the minds of those affected.
"As we have seen in Llanbedr, we cannot always prevent flooding from happening, but where we can we will take action to reduce the risk to local communities."