Deganwy Quay Hotel and Spa put up for sale for £7m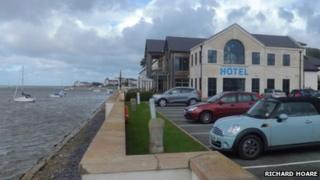 A landmark hotel overlooking Conwy estuary has been put up for sale for £7m after its holding company called in the administrators.
Deganwy Quay Hotel and Spa will operate as normal as it is run separately under a lease by a different company.
Administrators PricewaterhouseCoopers said the sale process would not impact on the hotel's day-to-day trading.
Non-trading holding company Albemarle Leisure, which owns the freehold, has called in the administrators.
Stephen Broome was appointed director of Deganwy Quay Ltd which runs the hotel business at the same time that administrators were appointed to take charge of the site's holding company.
He said the hotel, which has over 70 bedrooms, conference facilities, spa and restaurant, is "financially stable".
"It's very much business as usual," said Mr Broome, who expects to move on once the hotel has been sold.
He said staff had been aware of rumours for some time about the position of the holding company but he said there was now a "sense of relief" that the position has become clearer.
"We hope and pray that our customers will continue to use the hotel as they have done," he said.