Passengers flee as bus gutted by fire near Caernarfon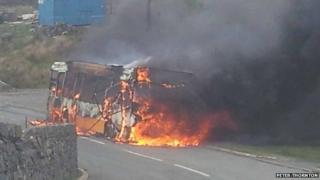 A bus company is investigating the cause of a fire which gutted one of its vehicles in Gwynedd.
About seven passengers and the driver had to flee the bus when it caught fire between Y Fron and Rhosgadfan, near Caernarfon, on Wednesday afternoon.
Nobody was injured - however the single-deck vehicle was completely destroyed by the blaze.
A spokesman for operators Express Motors said maintenance issues have already been ruled out as a cause.
Mother-of-two Lucy Price, 36, said she had been shopping in Caernarfon with a friend and was returning home when the fire started shortly before 15:00 BST.
"There were about seven passengers on the bus and the bus driver," she said.
"We had just scaled a steep hill when the bus pulled over and it literally filled with black smoke within seconds.
"I was sitting on the back seat of the bus with my friend and we made our way safely to the front with everybody else and got off.
"Within about five minutes the bus was full of flames and there was a big bang and the windows blew out."
Ms Price praised the bus driver who made sure his passengers were safe, but she said the incident could have been a lot worse and she had a lucky escape.
Unknown to Ms Price, her father Peter Thornton arrived at the scene while on his way to collect his grandson from school and took some photographs of the burning bus.
A spokesman for Express Motors in Caernarfon, said: "We are looking into this incident in great depth and we're concerned about what has happened.
"But it was not as dramatic as some media reports are suggesting.
"We have great concern for our passengers and staff and the good name of our company. We pride ourselves on our service. The company has been operating for nearly 40 years under the present management.
"We do know the fire is not down to a poorly maintained vehicle. Our driver at the scene dealt with the incident in a prompt and professional manner and made sure the passengers got safely off the bus."