Missing Anglesey divers found on helicopter's last pass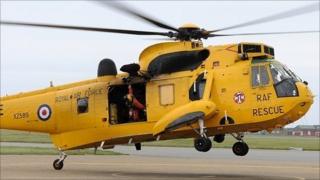 The helicopter that found two divers adrift in the sea off Anglesey was "running on fumes" when it pulled the pair from the water, it has emerged.
Students Craig Kewley, 22, and Alice Cousins, 20, inflated their dive suits to help them float, but were carried further out to sea by wind and tides.
They were found on the last pass over the search area on Sunday - five hours after being reported missing.
They have since been discharged from RAF Valley's medical centre.
Mr Kewley and Miss Cousins, who were from Liverpool university's sub-aqua club, were found by a helicopter rescue crew just before 18:00 BST, after they were reported missing by support crew in a boat near South Stack lighthouse, Holyhead, Anglesey.
The alert was the second rescue of the day for the helicopter crew, who had already been in the air for six hours.
'Relieved'
After the crew had searched for two-and-a-half hours, winchman Sgt Dave Currie spotted the pair floating on the surface "a long way from their dive area". They were two-and-a-half miles west of Rhoscolin.
The divers had inflated their dive suits to help them float and had been carried further out to sea by wind and tides.
In a statement, RAF Valley said: "The divers were winched onboard on at a time using a double-strop lift to counter any sudden drop in their blood pressure.
"They were flown back to RAF Valley and received a thorough medical check by RAF winchmen/paramedics.
"After being checked, both divers - suitably wrapped in space blankets - were able to sit with their rescuers and were given warming drinks to re-heat their bodies."
An RAF rescuer added: "They had attempted to swim against the tide to shore then just waited to be rescued. Because they had all the proper diving gear they were OK. But they are very relieved. "