£5.5m NRW scheme to cut Dolgellau flooding risk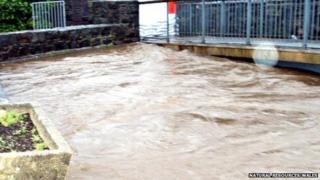 Plans have been submitted for a £5.5m scheme to reduce flooding risk in Dolgellau, Gwynedd.
Natural Resources Wales (NRW) said the scheme would improve flood protection for 182 residential properties and 128 commercial businesses at risk from the Wnion and Aran rivers.
Dolgellau suffered flooding in 2009 which led to the wall at Bont Fawr being overtopped.
The plans were handed to Snowdonia National Park after a consultation.
They include putting in new defences and improving some of the existing defences along the left bank of the river Wnion, from the Enterprise Park to the Aran Road area.
Repairs will be carried out some and new walls built on the Aran river and a weir will be removed.
Keith Ivens, flood risk manager at Natural Resources Wales, said: "If the application is approved, construction work is likely to start in autumn 2014 and take approximately nine months to complete.
"We will be consulting with the local community before this phase and will work closely with Dolgellau Town Council to minimise any disruptions to the town."
The project is being funded by the Welsh government's infrastructure investment plan.