Anglesey red squirrel activist wins conservation award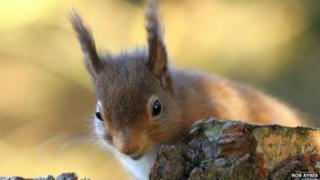 Protecting the red squirrels of Anglesey has won a retired academic physicist a top award from a conservation charity.
Mrs Rajkumari Jones has been given the David Stapleford Award by the Red Squirrel Survival Trust (RSST).
Mrs Jones moved to the island in 1997 when she married the late Dr Thomas Parry Jones OBE, the inventor of the electronic breathalyser.
Her conservation work has led to her chairing Red Squirrels Trust Wales.
In its citation, RSST said Mrs Jones "quickly became involved with the incipient red squirrel conservation project on the island and helped to raise its profile, gather support and disseminate the message about the need to save the species from extinction".
It added: "The resulting iconic Anglesey red squirrel conservation model now stands out as an exemplar for wildlife conservation."
Mrs Jones said: "This really is a salute to the people of Anglesey and to the talented and dedicated team that I have the privilege to work with.
"This national recognition will certainly spur us on, with renewed vigour, to the next phase of our project."
The projects to encourage red squirrels on Anglesey at locations such as Pentraeth, Newborough and Plas Newydd have seen populations swell, crossing onto the mainland at sites like Treborth, Bangor.
The award being made to Mrs Jones honours the work of David Stapleford, who died in 2012.
He pioneered captive breeding programmes of the red squirrel in Norfolk.
The award is presented to the individual who the judges believe has made a major impact on the fight to save the red squirrel, possibly over a life-time of commitment.
Mrs Jones is to be presented with her award at a ceremony in Cumbria in July.