Snowdon Race organiser says event is 'too big'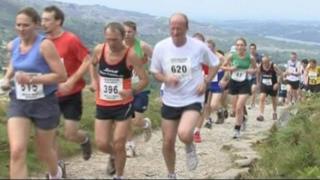 The Snowdon Race organiser has expressed concerns about its future, saying the event is too big.
Volunteer Stephen Edwards, who organises the day with the help of a committee, said the event needs more money to continue growing.
A record 650 people have registered for Saturday's ten-mile race from the edge of Padarn lake to mountain's summit.
Mr Edwards said: "I think it's too big by now. I think I've taken the race as far as I can."
He added: "I'm not blowing my own trumpet, but I took the event on in 2009 and looking back there was nothing much on the field (where the races starts) except for the scaffolding and the gantry and the runners.
"The community, the people of Llanberis expect something extra, something different from me each year.
"The bottom line is you can't have any more runners on the mountain. You have to keep in mind the marshals on top of the mountain.
"You could have 1,000-2,000 runners but they're up there (the marshals) all the time looking after them."
'Cash injection needed'
The first race was held in 1976 as part of Llanberis carnival and in 2015, to celebrate the 40th race, there are plans for a week-long event.
Mr Edwards said in order to raise the standard of the race, the event would have to be held over a week every year.
He added: "I've told the organising committee, if you want to raise the standard of the race, you have to have the best runners here and to attract them you need money.
"To get the money, you need sponsors and grants and myself and the committee don't have the time to look for sponsors.
"We're now competing with races which are worth tens of thousands of pounds where some runners sometimes are given £4,000-£5,000 just to stand on the starting line.
"That's without even going into the money they get for winning the races.
"We have no hope of competing with that as a small community unless we receive a cash injection to help us."