Sir Tom Jones at Colwyn Bay for Access All Eirias gig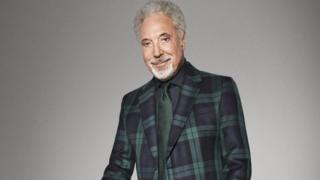 Sir Tom Jones is playing an outdoor show in north Wales on Friday night at a festival which is expected to bring £400,000 to the local economy.
Access All Eirias is bringing thousands of visitors to Colwyn Bay this weekend, with other acts including Jessie J.
Veteran singer Sir Tom will play before 14,000 at the Eirias Stadium
"It's a real benefit to Colwyn Bay in general and the economic benefits it brings," said Iwan Davies, Conwy council chief executive.
"Virtually all tickets are sold for tonight, there's a real buzz in the town."
'Exposure'
Organisers believe it could be Sir Tom's first outdoor appearance in the area and are looking for fans with long memories who might recall an indoor show from years ago.
Mr Davies added: "Sir Tom says it's his first outdoor gig in north Wales but we haven't come across anyone yet who can remember him playing in north Wales."
The festival launched in 2012 at the seaside town's £6.5m rugby stadium.
Ingrid Lewis, from the Bay Life Regeneration Programme, said: "The town almost doubles in size every year for Access All Areas and the exposure is great for our economy.
"Events like this are helping us to build a sustainable future for local businesses throughout the year, making Colwyn Bay more than just a one-trick pony."
She said shops were now flourishing out of season with more people returning as visitors.
Latest figures show that the town has seen 52 new shops open on the high street since 2012 and a further 22 businesses have expanded or have been refurbished due to an increase in demand.
Meanwhile, two snow leopard cubs born at Colwyn Bay Mountain Zoo in April have been named Tom and Jessie in anticipation of the concerts.