Isaac Nash: Mother thanks Aberffraw search crews and vows to return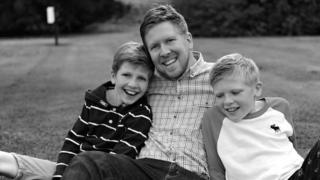 The mother of a 12-year-old boy swept out to sea while playing on Anglesey has sent an emotional thank you to crews who are searching for her son.
Isaac Nash was in the water at Aberffraw with his brother Xander, 10, when they got into difficulty.
Xander was saved but Isaac has not been seen since the incident on Friday.
In a Facebook message, Zoe Nash thanked searchers and said Isaac's family would return to Aberffraw, a "beautiful place that holds his spirit".
The search for Isaac entered its fifth day on Tuesday, after he was swept away while on holiday with his mother, father Adam, brother Xander, sister Greta, two, and other family members.
On Tuesday, Dafydd Robert Griffiths, a member of the Trearddur Bay Lifeboat Station, posted a message to the family on Facebook.
He wrote: "On behalf of all of the crew at Trearddur Bay Lifeboat Station, I'd just like to say how sorry we are for your loss.
"We were involved in the search for Isaac.
"I can't imagine how you must be feeling, I only know how much this has affected us all at the station.
"He looked like such a lovely young man. Our thoughts are with you always."
In reply, Ms Nash wrote: "I don't know where to begin with how much Adam and I are grateful to all of you for searching for Isaac.
"We are immensely appreciative that you are all still working to bring Isaac home.
"As a family we have been visiting Aberffraw since he was born and we will continue to visit the beautiful place that holds his spirit. Thank you."
The family, from the Huddersfield area, said they were familiar with Aberffraw after visiting the area many times.
When the boys got into difficulty in the sea, Mr Nash and his father swam out to save them.
Mr Nash fought difficult conditions to save Xander.
He said: "When I got my feet on the ground I was massively relieved. Xander said to me: 'I thought I was going to die.'
"As soon as I got my feet down I turned round and looked for my dad. He was washed up on to the rocks and just laid flat."
Mr Nash added: "My dad came round and his face was just screwed up and there was blood dripping down him from his arms and legs. And he said: 'I couldn't save him, I couldn't save him'."
The incident has prompted calls for a review of warning signs on the beach and other areas.
Bro Aberffraw councillor Ann Griffith said: "I have received calls for notices and signs on the beach, beside the river and on the rocks at Aberffraw, and have responded immediately with a request for an urgent assessment of the need for better community information regarding coastal safety.
"This is one of a series of nasty accidents off the coast of Bro Aberffraw."
An Anglesey council spokesman said: "Decisions regarding the appropriate level of beach signage are made based on regular risk assessments, taking into account any incidents which have taken place over the season.
"We will take any appropriate action to help keep our beaches as safe as possible, and respond appropriately to any representations made."
North Wales Police said the force helicopter was assisting coastguards on the west coast of Anglesey on Tuesday. Police divers are also involved.