OAP's £100,000 bequest to Ffestiniog and Welsh Highland Railway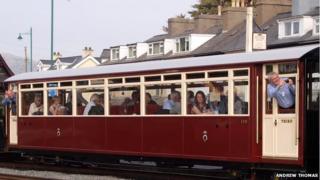 A lifelong railways enthusiast has left £100,000 in her will to Ffestiniog & Welsh Highland Railway.
Margaret Ritchie, who died in 2013 aged 68, bequeathed the money to pay for a new rail carriage.
Her family and friends were on board for the carriage's maiden journey from Porthmadog to Blaenau Ffestiniog.
And at a stop at Dduallt, Ms Ritchie's ashes were scattered and a dedication of the carriage was carried out by the former Bishop of Carlisle, Graham Dow.
Ms Ritchie's friend David Ward, who shared her love of the railways of north Wales, said: "Margaret would have been delighted with her carriage and the superb workmanship that has been put into its design and construction."
Ffestiniog & Welsh Highland general manager Paul Lewin said Ms Ritchie's generosity will help usher in a new generation of carriages for the Ffestiniog Railway.
He said: "While our older carriages have served us well for many years, it is clear an upgrade to the accommodation on offer is required.
"Words cannot express the gratitude we feel towards Margaret for her generous contribution towards our railway's future."
Ms Ritchie's involvement with railways began when she applied for a junior typist vacancy in the chief accountant's office in Glasgow.
In 1974 she moved to the British Railways general manager's office at London Euston, later becoming customer service manager for the Special Trains Department of Inter-City.
She subsequently took on the role of secretary to the Steam Locomotive Operator's Association and played a major role in the saving of the Settle and Carlisle Railway.