Coroner criticises Glan Clwyd Hospital staff after baby Elouise died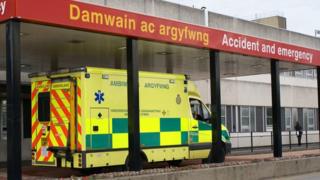 A coroner has criticised hospital staff's "lack of consideration" shown to a pregnant woman in labour whose baby died shortly after being born.
Amanda Sykes was nine days overdue when she was sent home from Glan Clwyd Hospital, Bodelwyddan, in March 2011 despite having been "in agony".
Her daughter Elouise Sykes-Winship was born two days later with severe cerebral palsy and organ damage.
Denbighshire coroner John Gittins concluded she died from natural causes.
However, he said the evidence heard at the inquest painted a "sad picture" of the care shown to Ms Sykes and her partner Jonathan Winship.
"I'm conscious that people work under pressure," he said.
Remained concerned
"But the apparent lack of consideration towards Amanda's suffering, and Jonathan's concerns, is not one that does you credit."
Mr Gittins remained concerned, he said, despite improvements having been made since the tragedy.
He would be recommending babies heart rates are monitored more closely and documented when the mother is given opiate drugs as pain relief.
Mr Gittins said women in the early stages of labour should be monitored more closely if their condition changes.
The inquest heard Ms Sykes was sent home with paracetemol despite being "in agony" from the hospital two days before Elouise died.
'Pale and silent'
In a statement, the mother-to-be from Deganwy in Conwy said she was concerned at being sent home, and was told her daughter could not have an induced delivery, as the pregnancy was not 10 days overdue.
Ms Sykes went into labour the next day and was taken to hospital by ambulance where midwives were unable to trace the baby's heartbeat.
She was taken to a delivery suite and Elouise was born naturally, but "pale and silent", according to midwives.
'Should never have happened'
Giving evidence, Elouise's father said he heard the doctor telling staff: "This should never have happened."
But consultant paediatrician Dr Duncan Cameron denied this.
"I would not use those words at a resuscitation because they are fraught with meaning, fraught with criticism of the midwives," he added.
They spent 25 minutes resuscitating the baby girl but she died 13 hours later on 12 March.
Elouise had asphyxiated on amniotic and meconium fluid but it was not known if that was caused by the umbilical cord becoming caught around her neck during birth.